Education
A COMMUNITY COMMITTED TO EDUCATION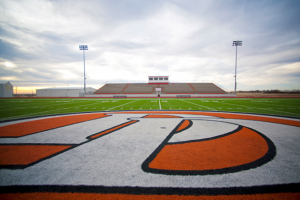 Quality, commitment and accountability – these are just a few of the words that reflect the education system for the Dumas area. When civic, business and education leaders applied their talents to address the education needs of the area's youth; they developed a blueprint that has changed the learning landscape forever.
In January, 2000, a dream became a reality in Moore County. Amarillo College established a permanent campus in Dumas to help promote learning and cultural activities. AC had a presence in Moore County for many years prior to 2000, offering classes at Dumas High School. But the new campus, owned by the taxpayers of Moore County, gives local residents a college they can call their own. In 2013, a new Career & Technical Training Center was constructed at the Dumas Business Park to help provide needed workforce and industry training programs. This innovative project, utilizing land donated by the Dumas EDC, will help attract new employers as well as provide new opportunities for the area youth.
In an effort to maximize on the proactive nature of the Dumas citizenry, the Dumas Education Foundation Inc. (DEF) was founded. DEF solicits, manages and distributes funds to enhance the quality of education in Dumas. DEF goals include: To encourage academic excellence in Dumas schools by providing funding not available through local, state or federal sources, to build public confidence in our school, to put public back in public schools, to involve the community in the support and improvement of the quality of education, and to promote and publicize the strength of Dumas schools. Since its inception in 1994, the Foundation has distributed several funds to the Grants-To-Teacher program to support innovative projects and creative teaching approaches in Dumas schools. In addition, DEF has distributed over $320,000 in funds to students wishing to seek a higher level of education or a vocational agenda.
The Quality Education for Students (QUEST) program is a local program that guarantees access to higher education for students of Dumas High School. QUEST guarantees payment for tuition, fees, and books at Amarillo College through grants as a last in assistance program. Students enroll in the QUEST program during the 5th grade and agree to maintain good grades, good behavior and good attendance throughout their school career. All students are eligible and the program has successfully provided an opportunity for numerous local first generation college students.
Dumas ISD routinely receive high marks for their schools and enjoys the classification as a "Blue Ribbon School". The district is rated as Recognized with five elementary schools, an Intermediate School, Junior High School, High School and North Plains Opportunity Center serving over 4,500 students. The High School is a Class 4A Division school with excellent sports, arts and academic activities.
In 2014, Frank Phillips College will open their Cosmetology School in Dumas. Located at Pointe Place Center on South Dumas Avenue, the school will have numerous stations for students to learn all aspects of cosmetology.
Dumas is conveniently located near some of the best colleges and programs in the nation. Amarillo College main campus is located only 45 minutes away in Amarillo, Texas Tech has a medical program available in Amarillo, Texas A&M has an agriculture research facility in Dumas, and West Texas A&M University (WTAMU) is located an hour south in Canyon, Texas. Wayland Baptist is located 1 ½ hours south in Plainview, Texas Tech is 2 ½ hours south in Lubbock, Frank Phillips main campus is located 30 minutes to the east of Dumas and Oklahoma Panhandle State University is located less than an hour away to our north.
DISD School Information Sheet
Dumas Area Education Report
Dumas Area Educational Attainment Chart